Thursday 23 January 2014


L'hommage:
Lawen Mohtadi om Rosa Taikon
Idag inleder vi vår intervjuserie L'hommage, där vi lyfter fram människor som valt att lyfta fram andra. Först ut är Lawen Mohtadi,  journalist, författare och debattör i frågor kring genus och rasism, och bland annat tidigare chefredaktör för tidningen Bang.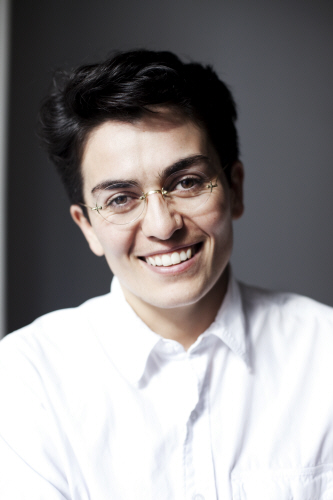 Berätta om din bekantskap med Rosa Taikon?
– Vi lärde känna varandra i arbetet med boken om hennes syster Katarina Taikon (Den dag jag blir fri, Natur & Kultur 2012), och deras kamp för romers rättigheter i Sverige under 1960- och 70-talet. Genom Rosa fick jag upp ögonen att för en vital rörelse för antirasism fanns i Sverige redan på 60-talet, och för att den kampen lever vidare och har stor relevans idag. Det var upplyftande att inse att vi, i vår tid, inte är de första att se de här problemen i samhället. Att få insikt om det genom Rosas berättelser berikade och inspirerade mig mycket, det liknade mitt feministiska uppvaknande 20 år tidigare. Det är också en ny upplevelse, som journalist, att lära känna och bli vän med någon som man intervjuar under en längre tid.
Du skriver ofta om Rosa på sociala medier och andra ställen utanför din bok – finns det en medveten tanke kring det?
– Jo, det har nog funnits en underliggande ambition på ett sätt. Min generation ska få veta vem Rosa är. Men mycket handlar det också om att jag tycker om att dela hennes tankar och kommentarer om saker.
Är det viktigt att göra frontfigurer som är kvinnor mer kända?
– Ja, det är viktigt. Feminismen har ju inga ledare, men den har sina ikoner. De har haft stor betydelse för mig, man inspireras av dem, man kritiserar och går i dialog med deras idéer. Att dela erfarenheter betyder en hel del. Mycket inspiration och tröst finns ju i det att man själv inte är den första som upptäckt att man behöver kämpa mot olika former av förtryck. I framhållandet av kvinnliga förebilder och ikoner är man med och gestaltar kulturen och sin samtidshistoria.
Är det viktigt att ha en självupplevd utgångspunkt som förebild? Finns det några män exempelvis, som är feministiska förebilder för dig?
– De egna erfarenheterna är betydelsefulla, men så är också intresset för och solidariteten med det som ligger utanför den egna upplevelsen av världen. Författaren James Baldwin har varit en förebild, i hur han gestaltar mänskliga erfarenheter och det sociala och kulturella landskapet i USA på 60,70- och 80-talet.
Vad hoppas du lever vidare av Rosa Taikons gärningar?
– Hennes budskap om att vi alla förtjänar ett liv utan förnedring och förtryck, ett slags frihetsbudskap.
Men också hennes sätt att vara, att ha nyfikenheten i behåll, en förmåga att röra sig framåt som är betydelsefullt när man jobbar med väldigt tunga frågor. Visst berörs hon av rapporter om hur romers rättigheter fortfarande kränks, men hon låter sig inte nedslås. Hon skulle aldrig ge upp, tror jag. I sitt politiska engagemang lever hon inte på gamla meriter, hon finns i nuet. Hon säger ofta när vi pratar om de här frågorna: "Vi kan inte bara prata om dåtid, vi måste prata om framtiden också."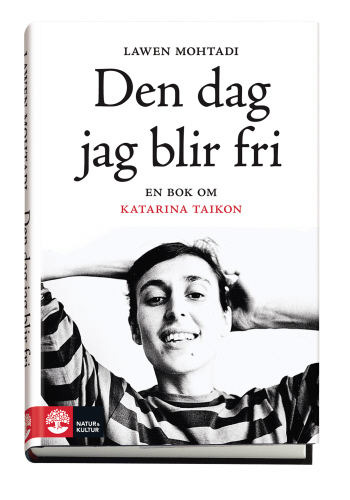 Tuesday 7 January 2014


The Hall of Femmes'
Annual Report 2013
As the new year begins, we'd like to wrap up what we did last year.
2013 was the year Hall of Femmes expanded from a two-person mission to a much bigger one, thanks to our smart, savvy and professional collaborators.
2013 was the year we published four new books; three on Tomoko Miho, Lella Vignelli and Janet Froelich, which we celebrated with parties at Moderna Bar, Yaki Da and Lydmar Hotel. We also compiled our 700 – so far – blog posts, written between 2009 and 2013, into a book.
2013 was the year we arranged our first (but not last!) conference, aka design festival, aka Best Week of 2013: Hall of Femmes Talks, at Moderna Museet. For two days, Swedish creatives experienced lectures from and discussions with leading international creatives. Thank you all for making this conference so memorable, and thank you for the kind words, e-mails and letters we've received – it means the world to us.
2013 was the year we started to do podcasts, thanks to Stockholm based production company Filt.
2013 was the year we did several new interviews with leading Swedish creatives, who generously shared their thoughts on both gender and design. Don't miss this brand new interview with leading lady Lotta Kühlhorn.
2013 was the year we sometimes changed position, from doing interviews, to being interviewed.
2013, in the Fall, we presented a screening: »Sarnos – A Life in Dirty Pictures«, a documentary by Wiktor Ericsson, at Bio Rio. After the film, there was a conversation between Peggy Sarno and Hall of Femmes' editor Ika Johannesson.
2013, in October, we were honored with the prestigious Bengt Hanser Award for, in the words of the jury: »having contributed to an improved industry for both men and women – and for giving us a more inclusive history of design« (We're so proud!).
And not forgetting – in 2013 we got this web page.
We wish you a wonderful new year, and hope to see you at one of the events we're planning for 2014. Our first event for 2014 is »True freedom can only be collective«, welcome!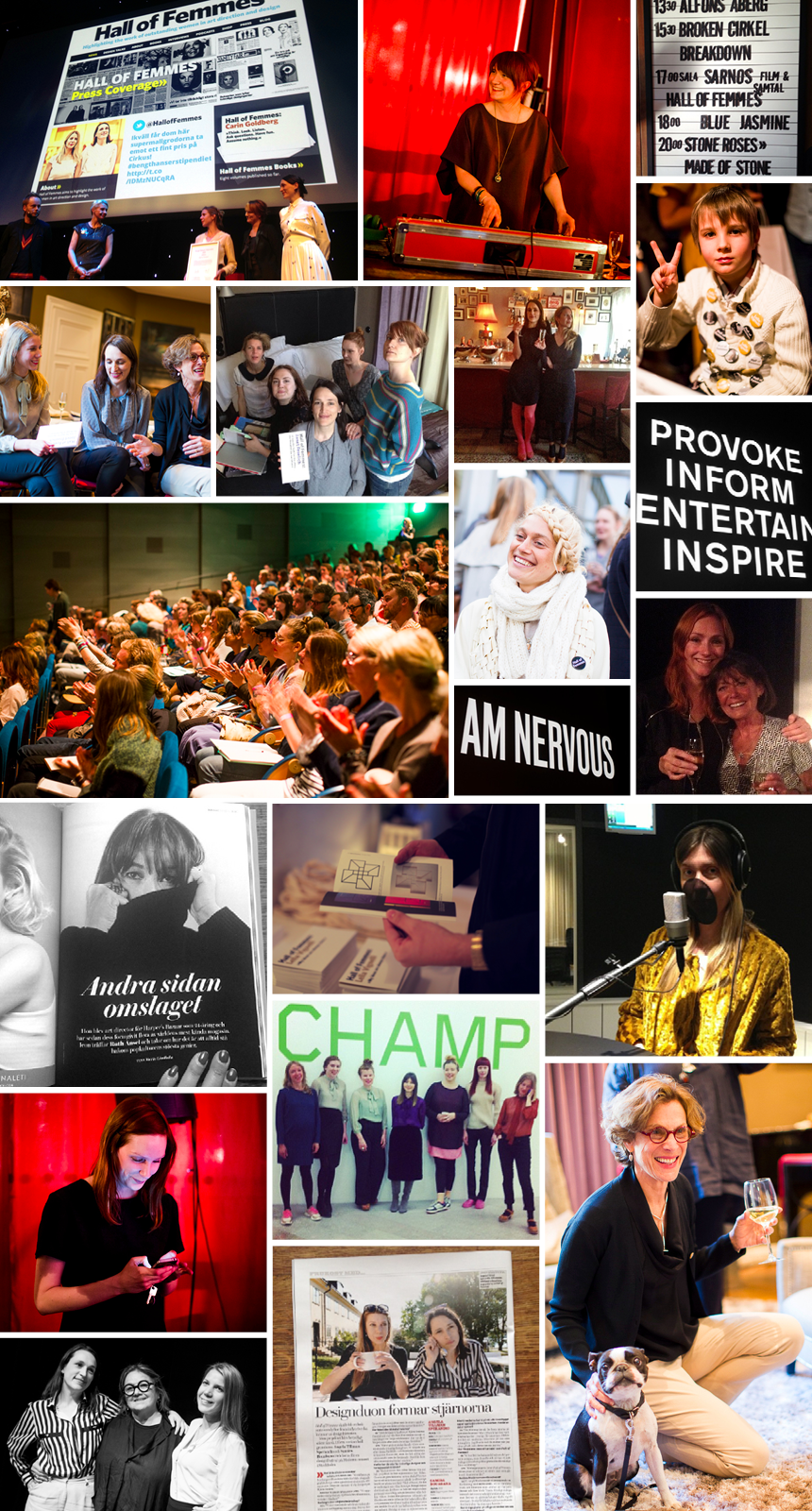 Posted by: admin 07:20
Tags: 2013, Bengt Hanser, Filt, Hall of Femmes Talks, Janet Froelich, Lella Vignelli, Lotta Kühlhorn, Peggy Sarno, Podcasts, The Sarnos, Tomoko Miho
Categories: Books, Hall of Femmes intervjuar, Ladies, Seminars