Wednesday 28 May 2014


Meeting the Vignelli's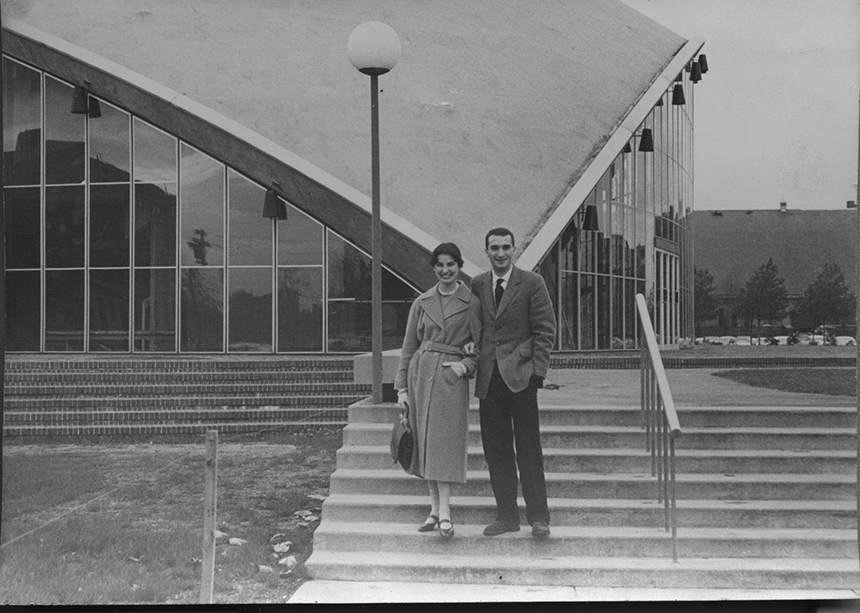 When we arrive at the Vignellis' Upper East Side apartment to interview Lella, her husband Massimo answers the door. Their combined home and studio is a duplex apartment, dominated by a giant, lead window. We chat while waiting for Lella to appear – she is not entirely well. A storm rages outside and every so often a lightning strike rattles the church-like window. Later, when we listen to the tape, there's so much rumbling at times that we can barely hear what we're saying.
Suddenly Massimo looks up and says, »I think that's Lella,« sensing her presence. And there she stands, on the balcony that looks out over the large, high-ceilinged room. She comes down to talk and introduces herself. Lella Vignelli is regal. Though today, at the age of 78, she is no longer working, she is sharp, impeccable and has an air of knowing something the rest of us don't. After all these years in the US, her accent is still unmistakably Italian. Despite her health issues, she projects authority, and it's easy to see why clients and suppliers did as she said.
Lella and Massimo Vignelli met when they were very young. They both studied architecture in Venice and later moved back and 
forth between Italy and the US, running a successful business, the Vignelli Office of Design and Architecture, in Milan with big clients like Pirelli and Olivetti. When the pair settled in New York at the end of the 1960s, they, Ralph Eckerstrom and others launched Unimark International, one of the world's biggest design firms at the time. Lella says they felt like missionaries during those first years; in the US there was much in need of designing.
The Vignellis have a holistic approach to design that they put forward in their book Design is One. Lella's broad and impressive output proves their motto: »If you can design one thing, you can design everything.« She has turned her hand to every kind of project, from furniture, interiors, showrooms and exhibitions, to product design, silverware and clothing. When we meet, Lella wears a gray pantsuit and jewelry of her own design. The furniture we sit on is from their shared portfolio, and Massimo pours water into glasses he designed. All follows from a directive that is both prosaic and like a command from a higher sphere: »If you can't find it, design it.«
Ever since they first met, their private relationship has been impossible to separate from their intellectual and creative partnership. In an interview with the couple, from the early 1980s, Lella says that they did compete with each other in the beginning, but that the ambition- to one-up one another in those early years was soon replaced by cooperation. They answer all questions using the pronoun »we.«
Not everyone has understood just how closely they have worked, and the couple is frustrated that Massimo has often gotten sole credit for projects that they have done together, or »for my work,« as Lella sharply puts it.
Throughout art and design history there are a smattering of couples in the same profession. Cipe Pineles and William Golden, and later Will Burtin, for example. But it is more common to find a pairing of two related professions, such as Massimo and Lella Vignelli – graphic- designer and industrial designer. The role distribution, and how the female partner, or wife, has been involved in the process, may not always be clear to others. Bertha Goudy and Edna Beilenson helped their men with typesetting, and Ray Eames took an active part in the Eames' work as a couple.
The issue of partnership has often surfaced in our work on Hall of Femmes. For us the image of a professional creative couple has always held a certain allure – a partnership in love and work. Perhaps because we too are a »design couple,« albeit not in the romantic sense. For ten years we worked together in a seamless partnership in which it was impossible to divine who did what. In our case this never meant that one of us was obscured by the other. Do women who work in tandem with their men run a higher risk of this?
Admitting to ourselves that the Vignellis' private relationship inte-rests us as much as their professional one feels shameful, almost taboo. Like everyone else, we've been taught that a designer's actual work is the aspect important to a historical biography. To intrude into the private sphere would be messy. This seems even more loaded when it comes to women. If a woman is living with a man who is successful in her field, people's opinions of her professional life will likely be influenced by it. Martha Scotford writes about this in her introductory essay. So, in deference to their life-long collaboration, we decided to interview the Vignellis together, although Lella is our main interest.
After the interview, Lella and Massimo walk us to the door. Mas-simo remarks how important it is that Lella get the book she deserves.
We have to agree with him on that. Lella smiles her most radiant smile and says »I never let myself be intimidated by the attitudes
of others.«
Preface from Hall of Femmes: Lella Vignelli, published  2013
Editor: Sarah Clyne Sundberg
Buy the book here.
Buy the poster here