Sunday 24 August 2014


L'hommage: Thomas Kracauer > Deborah Sussman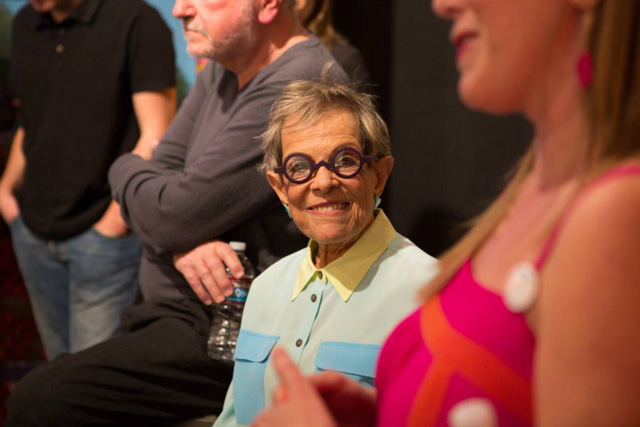 Deborah Sussman at the opening of the exhibition Deborah Sussman loves L.A. Photo: Laure Joliet.
On the 20th of August, graphic and environmental designer Deborah Sussman passed away, at the age of 83. The Brooklyn born designer was the woman behind groundbreaking work in environmental design, just recently acknowledged in a retrospective exhibition called Deborah Sussman Loves L.A –  her designs still being very much part of the landscape of her adopted home town. Her most famous work includes the large scale graphic identity for the 1984 Olympics in Los Angeles, which paved the way for a whole new platform in graphic design as part of the public space. She also worked at the Ray and Charles Eames office, and founded the agency Sussman/Prejza in 1968, together with her architect husband Paul Prejza.
Since Deborah Sussman's name has probably been less known than her iconic work to most, a few enthusiasts started fund-raising to make a show in honor of her achievements. The exhibition took place at the  WUHO Gallery in Los Angeles earlier this year, just months before her passing, and became noticed far beyond the channels of the advertising/design industry. The exhibition was curated and organized by Catherine Gudis, Barbara Bestor, Thomas Kracauer and Shannon Starkey.
Considering us big fans of Sussman and her work, Hall of Femmes took great interest in the exhibition this spring. We contacted the fellow admirer and graphic designer Thomas Kracauer, to find out more about the show. Here he talks about the project and about spreading the creative spirit of Sussman to the next generation: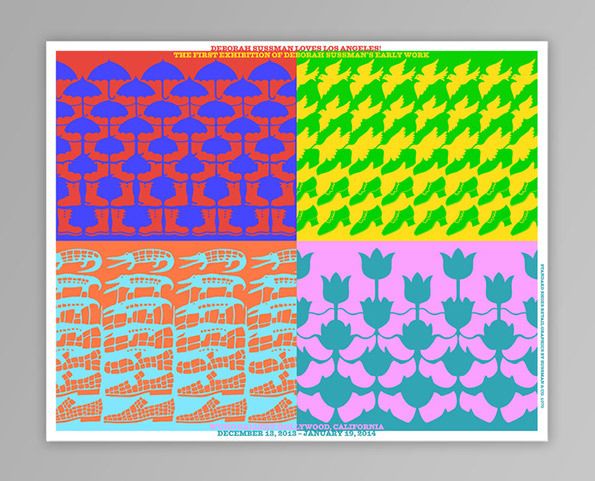 Thomas Kracauer's poster for the exhibition Deborah Sussman loves L.A.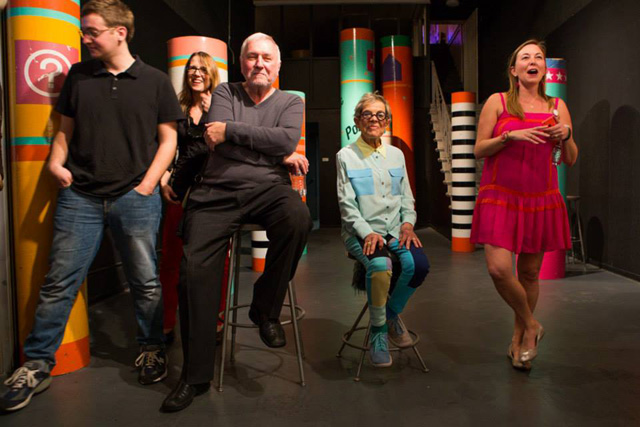 The team behind the exhibition, Paul Prejza and Deborah Sussman. Thomas is to the left. Photo: Laure Joliet.
What was your relation to Deborah Sussman's work before this project?
Before we started talking to Deborah about her work, and digging through her archives, I was only familiar with the work she carried out for the 1984 Olympics and a few recent projects around Los Angeles. I have always gushed over the Sonotube designs. Before seeing them at the Getty last year at the Overdrive show I wasn't aware of that every day I encounter signs, buses and structures in Los Angeles designed by Deborah and her office.
How did the idea for this exhibition first arise? What was your interest in the project?
It was the architect Barbara Bestor's idea to do a show about Deborah's work; we just didn't know what kind of show. After collecting material we decided to focus on her work from 1953 to 1984, Eames Office to the Olympics. When the project started I was extremely excited to get to design an exhibition about such an important character in Los Angeles design – she was one of the best subjects to design an exhibition about since a lot of her (and Paul's) work was spatial. It was great material to craft messages in space.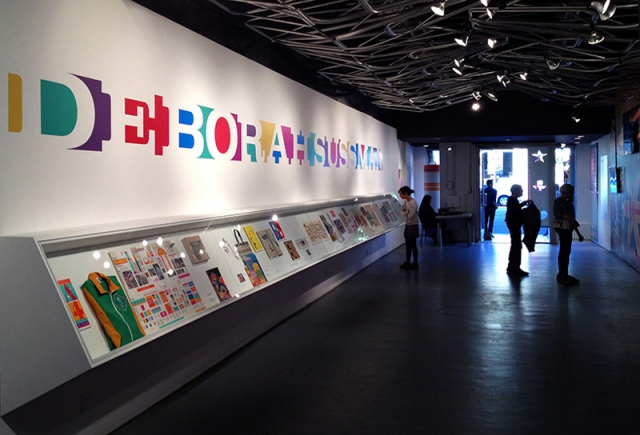 There seems to have been a bit of a buzz about the exhibition even before it opened, because it was crowd funded – what were the advantages of doing the project this way?
I think the buzz wasn't because it was crowd funded, but because it was a long time coming for a dedicated show about Deborah's work. The 1984 Olympics was her most well known contribution to the city, and now a new generation was able to experience her work from the 50s, 60s and 70s.
Barbara Bestor said in an interview that part of the intention with the exhibition was to bring the designer's work into the Pinterest age – what would you like for people to see and take away from the exhibition? 
The element of joie de vivre that is so apparent in all her environmental work.
The title of the WUHO Gallery show was Deborah Sussman Loves LA – how would you describe Sussman's Los Angeles?
So much of Los Angeles is Sussman's. Driving through downtown you can see her work at Grand Avenue Park and signage for office buildings. On the highway you'll drive past a FlyAway bus with the logo designed by S/P (Sussman/Prejza). Santa Monica and Culver City's urban branding were done by S/P, and soon you'll be able to see their work in the Willowbrook neighborhood. Many Metro stations are coated with S/P designs. Every show about the Eames has echoes of Deborah's contributions. It's actually really hard to go a day in Los Angeles and not see Deborah's (S/P's) Los Angeles. And that's just what you can see today. Her work on such culturally significant stores as Standard Shoes, Joseph Magnin and Zody's were dazzling Angelenos in the 60s and 70s… Deborah has always been a pioneer in improving the visual culture, street culture and shopping environments of Los Angeles, and we've all benefited. She was incredibly generous with her creativity.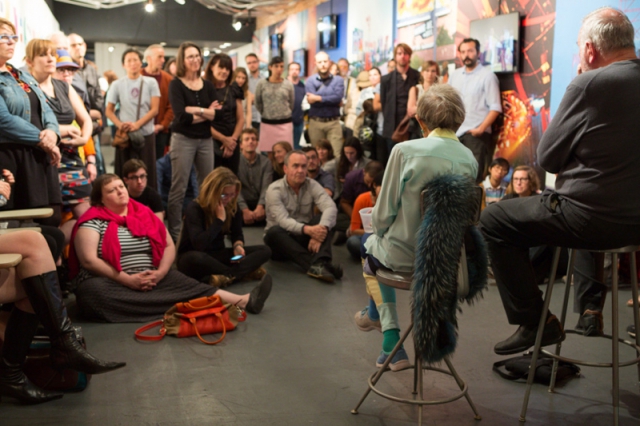 Deborah Sussman and exhibition visitors. Photo: Laure Joliet. All images by Joliet borrowed here, and more photos from the exhibition can be found here.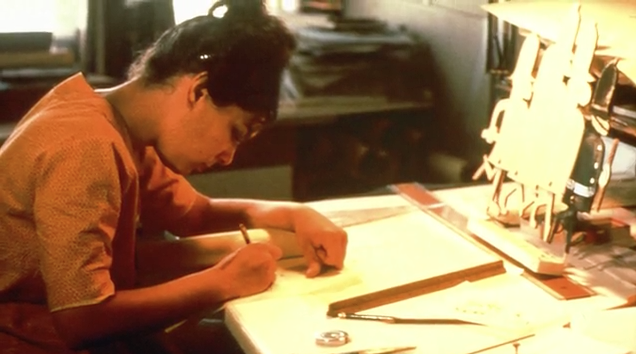 Deborah Sussman at the Eames office. Photo from this video.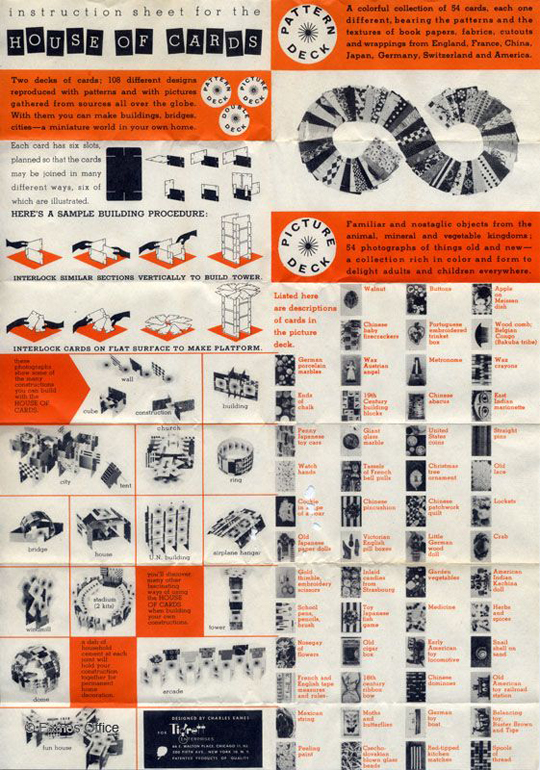 One of Deborah Sussman's first assignment at the Eames office was designing the instruction paper for House of Cards.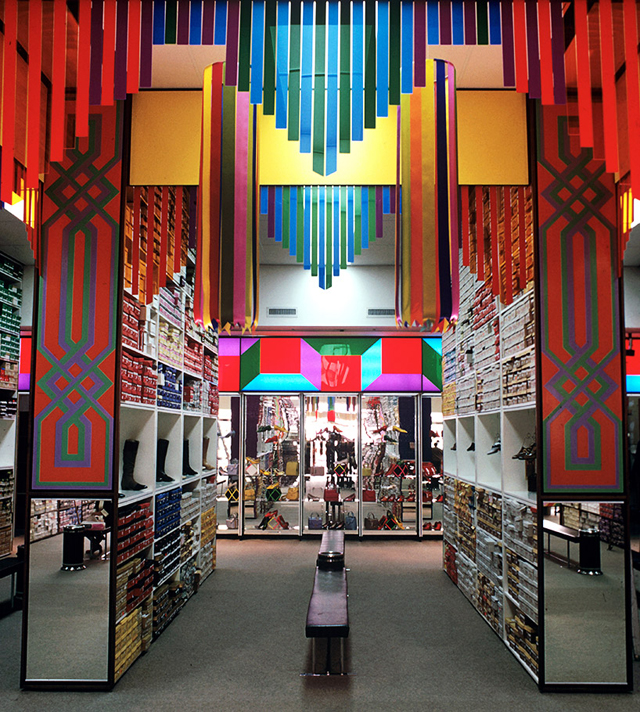 Standard shoes store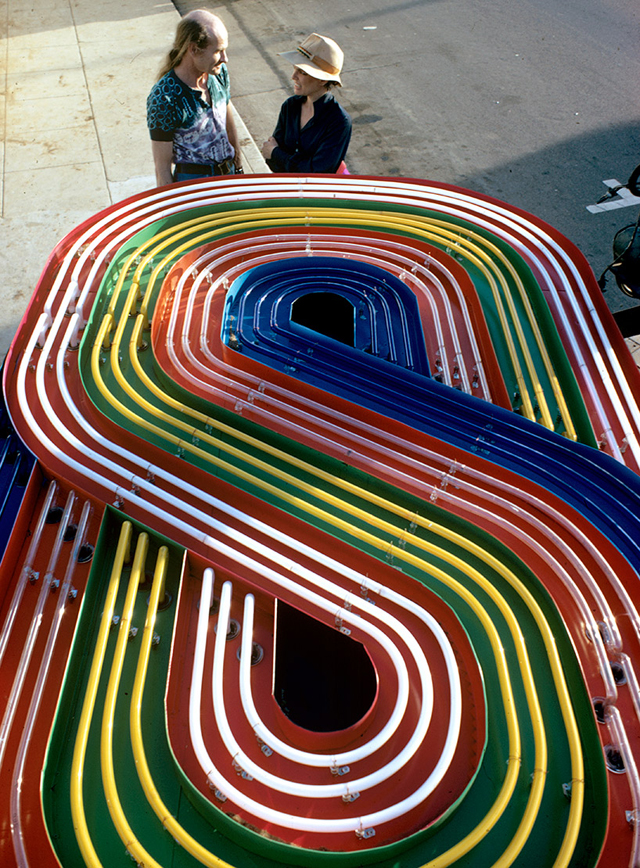 Sussman standing behind Standard shoes store S sign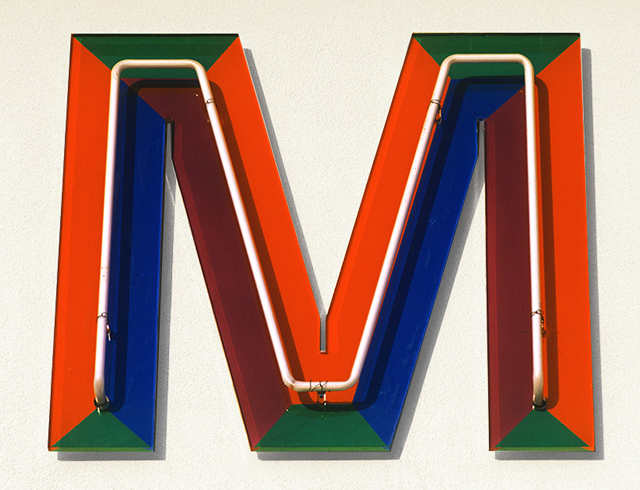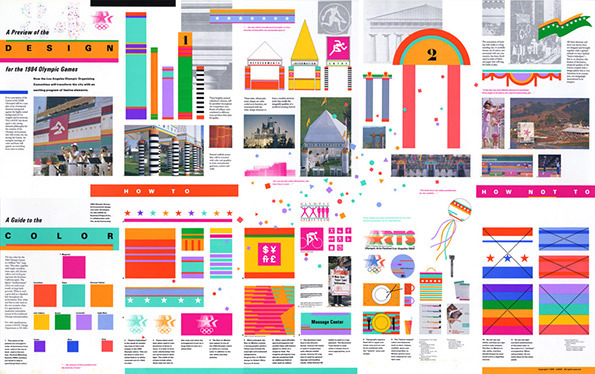 1984 L.A Olympics graphic identity
Thomas Kracauer