A new book in the Hall of Femmes series.
Barbara Stauffacher Solomon was the first to create what came to be known as Supergraphics: monumental graphics designed in harmony with architecture. Her iconic style – mixing Swiss Modernism and West Coast Pop – pioneered the look of California Cool, an important moment in graphic design history.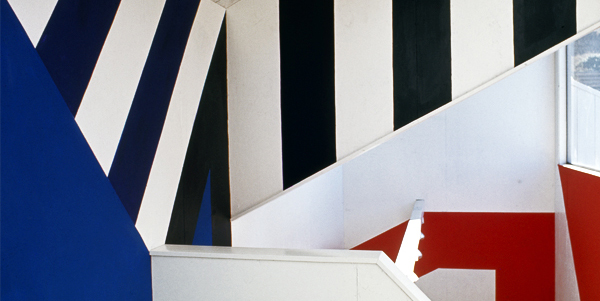 In addition to an impressive portfolio, she boasts a fascinating life story. Ranging from being a teenage flamenco dancer, to marrying a well known film director, to suddenly finding herself a young widow with a child to support. At a crossroads, she moves to Switzerland to study under the influential modernist designer Armin Hofmann, before returning to the U.S and creating influential designs that were bigger and bolder than her Swiss counterparts.
Barbara on her resilience:
"To this day, the combination of being trained as a ballet dancer, and trained by a Swiss to be a designer: I think that's why I haven't fallen apart!"
Barbara on her iconic style:
"I was a Californian. I went back to San Francisco and I broke all the rules. My designs were bigger and bolder than my Swiss classmate's solutions had been. Give me a big white wall and I covered it with big red stripes."
Is the book finished?
Yes, we have the amazing story of Barbara Stauffacher Solomon written, designed and ready to print. From then it will take 4 weeks to print the book and another week to get it ready for shipping.
Why do we need your support?
We believe in the power of role-models. We believe they help us envision the possibilities of succeeding within this profession. By helping publish this book you can broaden the perspective on design history. You can inspire generations of designers by telling the stories of women that have often been innovative, fearless, and have significantly contributed to the development of graphic design.
The story behind the series
When we founded the project back in 2009 we realized that as designers, we had few female role models. We couldn't find much information about female designers in the history books so to satisfy our own curiosity we began to do research and found designers who had made their marks on design history — credited or uncredited. We met several of these designers and wrote a book about each one of them. Here you will find the whole series.
Praise for the Hall of Femmes book series
»First and foremost, these are wonderful, wonderful books. Looking increasingly to female role models in the design industry […] Hall of Femmes […] set about getting in touch with the many talented women making a creative difference.« It's Nice That
»Your books becomes more and more significant and you should be praised for doing them.« Massimo Vignelli
Buy all the Hall of Femmes books in our webshop, run by Merchworld.