Tuesday 7 January 2014


The Hall of Femmes'
Annual Report 2013
As the new year begins, we'd like to wrap up what we did last year.
2013 was the year Hall of Femmes expanded from a two-person mission to a much bigger one, thanks to our smart, savvy and professional collaborators.
2013 was the year we published four new books; three on Tomoko Miho, Lella Vignelli and Janet Froelich, which we celebrated with parties at Moderna Bar, Yaki Da and Lydmar Hotel. We also compiled our 700 – so far – blog posts, written between 2009 and 2013, into a book.
2013 was the year we arranged our first (but not last!) conference, aka design festival, aka Best Week of 2013: Hall of Femmes Talks, at Moderna Museet. For two days, Swedish creatives experienced lectures from and discussions with leading international creatives. Thank you all for making this conference so memorable, and thank you for the kind words, e-mails and letters we've received – it means the world to us.
2013 was the year we started to do podcasts, thanks to Stockholm based production company Filt.
2013 was the year we did several new interviews with leading Swedish creatives, who generously shared their thoughts on both gender and design. Don't miss this brand new interview with leading lady Lotta Kühlhorn.
2013 was the year we sometimes changed position, from doing interviews, to being interviewed.
2013, in the Fall, we presented a screening: »Sarnos – A Life in Dirty Pictures«, a documentary by Wiktor Ericsson, at Bio Rio. After the film, there was a conversation between Peggy Sarno and Hall of Femmes' editor Ika Johannesson.
2013, in October, we were honored with the prestigious Bengt Hanser Award for, in the words of the jury: »having contributed to an improved industry for both men and women – and for giving us a more inclusive history of design« (We're so proud!).
And not forgetting – in 2013 we got this web page.
We wish you a wonderful new year, and hope to see you at one of the events we're planning for 2014. Our first event for 2014 is »True freedom can only be collective«, welcome!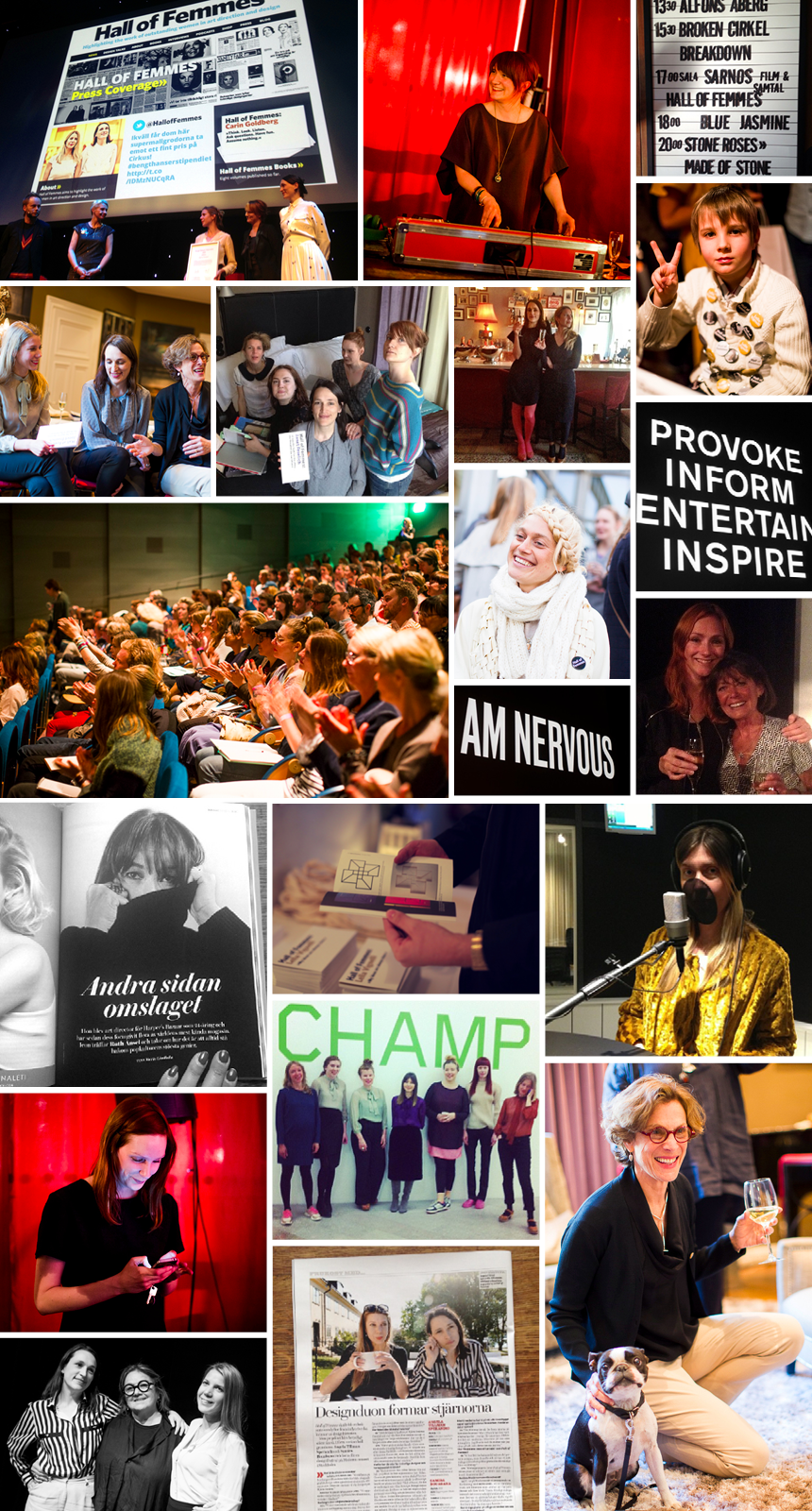 Posted by: admin 07:20
Tags: 2013, Bengt Hanser, Filt, Hall of Femmes Talks, Janet Froelich, Lella Vignelli, Lotta Kühlhorn, Peggy Sarno, Podcasts, The Sarnos, Tomoko Miho
Categories: Books, Hall of Femmes intervjuar, Ladies, Seminars
Wednesday 4 September 2013


Peggy Sarno – sexcentriker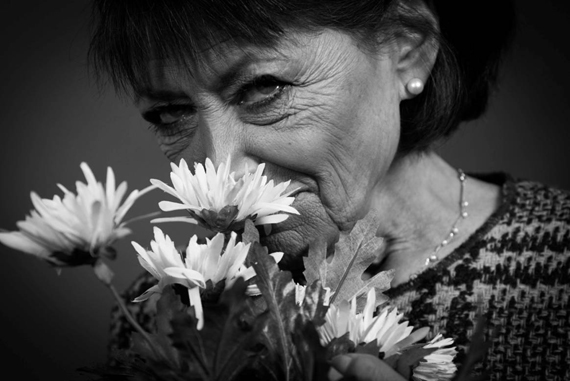 »I never drink martinis outside my home.« Vi har precis träffat Peggy Sarno för första gången och vår favoritbartender på Lydmar hotel har frågat om hon vill ha en Dry Martini. Hon spänner ögonen i honom och säger med den släpigaste och hesaste rösten i världshistorien: »Alright, give it a try, bartender.« Vi är här för att äta middag med Eric Breibart, mångårig vän till formgivaren Tomoko Miho och den som gjort det möjligt att slutföra hennes bok efter att hon hastigt gått bort i cancer. Nu är Eric i Stockholm för att hälsa på sin nya flickvän Peggy. Han har berättat att hennes avlidne man Joe varit en känd filmregissör, utan att precisera vilka sorts filmer han gjort. Peggy har stannat i baren och fortsatt prata prata med bartendern och plötsligt hör vi henne hojta: »He (pekar på bartendern) knows the film, he knows Fäääbodjäääntan!«
Sen dess har vi träffat Peggy varje gång hon varit i Stockholm. Hon och hennes man Joe har tillbringat varje sommar här sen 60-talet och hon älskar Sverige. Hon säger att somrarna här räddade hennes äktenskap, bland annat från föräldrarna som inte var särskilt förtjusta i att hon, den judiska överklassflickan från Manhattan, var tillsammans med en äldre man som var porrfilmsregissör och son till en maffiaboss.
Peggy pratar om sexfilmer lika avspänt som andra pratar om vädret. Det förvånar oss inte det minsta när hon säger att hon vet allt om sina jämnåriga vänners, sina vänners barns och sina vänners barnbarns dejtande (och när vi säger dejtande menar vi såklart liggande). »Fråga mig om en historisk händelse och jag kommer inte kunna svara, men fråga mig vem som har legat med vem och jag minns allt.«
När den underbara och kärleksfulla dokumentären om Peggy och Joe, The Sarnos, (regi Wiktor Ericsson) hade premiär på Göteborgs filmfestival var Peggy gäst hos Skavlan. Det var högtidsmys hemma i TV-soffan när en 75-årig kvinna med självklarhet och pondus pratade kvinnliga orgasmer så att programledaren blev pionröd i ansiktet.
Peggy Sarno är en av de fascinerande personen som vi har haft turen lära känna tack vare Hall of Femmes. Möten som får oss att promenera hem med glittrande kinder och rosiga ögon och ställa oss framför spegeln och hesviska: I never drink martinis outside my home."
På söndag 8 september kl.17 på Bio Rio/Barbro visar Hall of Femmes dokumentären Sarnos – A Life In Dirty Movies  med Peggy Sarno på plats. Efter filmen följer ett samtal med Ika Johannesson. Film + Samtal =150 kr. Biljetter här.