Tuesday 7 January 2014


The Hall of Femmes'
Annual Report 2013
As the new year begins, we'd like to wrap up what we did last year.
2013 was the year Hall of Femmes expanded from a two-person mission to a much bigger one, thanks to our smart, savvy and professional collaborators.
2013 was the year we published four new books; three on Tomoko Miho, Lella Vignelli and Janet Froelich, which we celebrated with parties at Moderna Bar, Yaki Da and Lydmar Hotel. We also compiled our 700 – so far – blog posts, written between 2009 and 2013, into a book.
2013 was the year we arranged our first (but not last!) conference, aka design festival, aka Best Week of 2013: Hall of Femmes Talks, at Moderna Museet. For two days, Swedish creatives experienced lectures from and discussions with leading international creatives. Thank you all for making this conference so memorable, and thank you for the kind words, e-mails and letters we've received – it means the world to us.
2013 was the year we started to do podcasts, thanks to Stockholm based production company Filt.
2013 was the year we did several new interviews with leading Swedish creatives, who generously shared their thoughts on both gender and design. Don't miss this brand new interview with leading lady Lotta Kühlhorn.
2013 was the year we sometimes changed position, from doing interviews, to being interviewed.
2013, in the Fall, we presented a screening: »Sarnos – A Life in Dirty Pictures«, a documentary by Wiktor Ericsson, at Bio Rio. After the film, there was a conversation between Peggy Sarno and Hall of Femmes' editor Ika Johannesson.
2013, in October, we were honored with the prestigious Bengt Hanser Award for, in the words of the jury: »having contributed to an improved industry for both men and women – and for giving us a more inclusive history of design« (We're so proud!).
And not forgetting – in 2013 we got this web page.
We wish you a wonderful new year, and hope to see you at one of the events we're planning for 2014. Our first event for 2014 is »True freedom can only be collective«, welcome!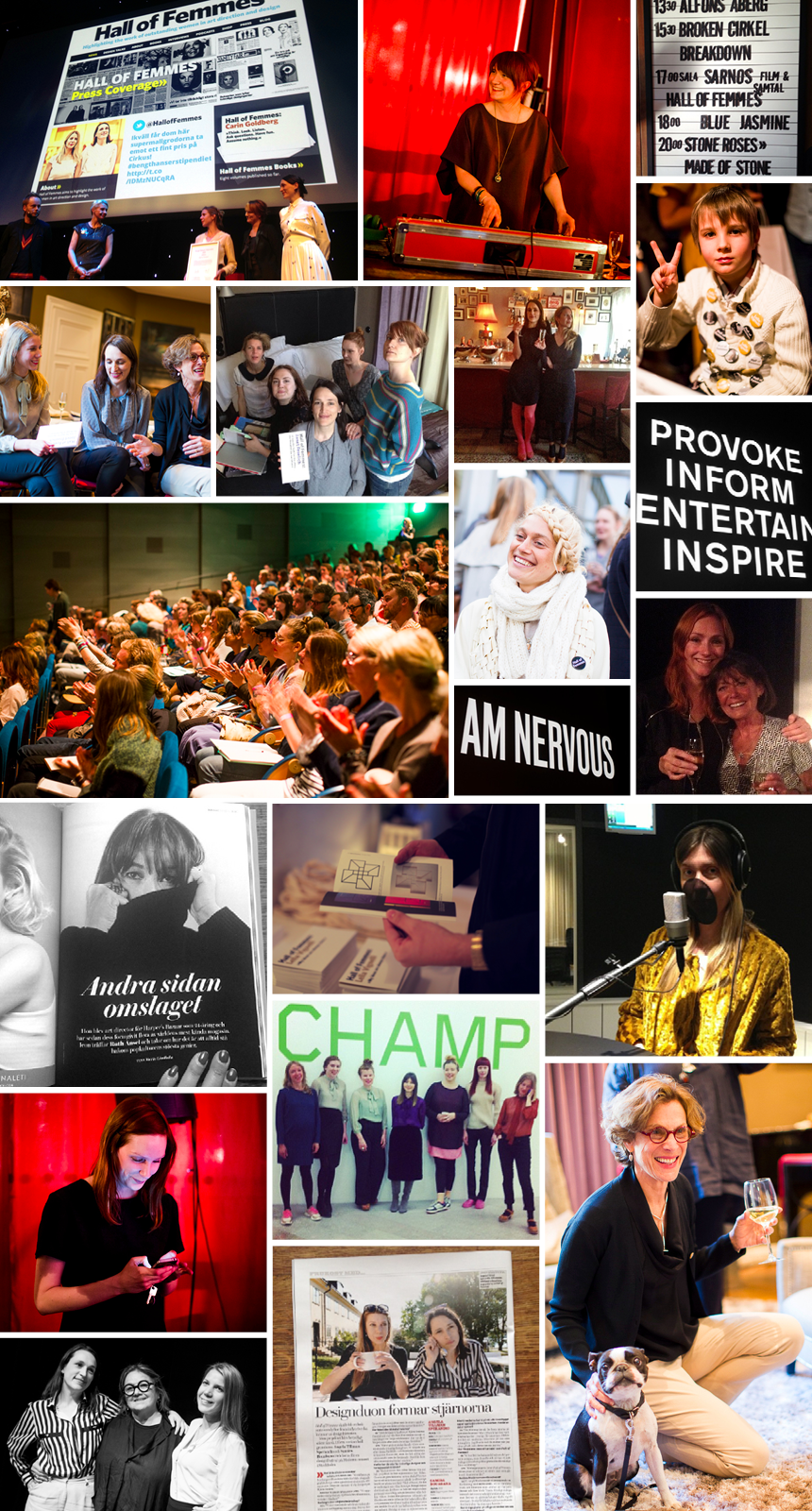 Posted by: admin 07:20
Tags: 2013, Bengt Hanser, Filt, Hall of Femmes Talks, Janet Froelich, Lella Vignelli, Lotta Kühlhorn, Peggy Sarno, Podcasts, The Sarnos, Tomoko Miho
Categories: Books, Hall of Femmes intervjuar, Ladies, Seminars