About
Hall of Femmes aims to highlight the work of women in art direction and design. The project was founded in 2009 by Samira Bouabana and Angela Tillman Sperandio. It includes lectures, exhibitions, interviews, podcasts and the publication of the Hall of Femmes book series, each book portraying a designer and her work through in-depth interviews and previously unpublished images.
The project started as a personal desire to find female role models in graphic design, a field where women's contribution to developing the profession had not been documented or had enough recognition. Angela and Samira travelled several times to New York to meet up with a few of the female giants of the design world. They talked to them about work and career opportunities, about mentorship and what it's like to be a woman in the design world. These conversations have been transformed into a series of books . The first book, about Ruth Ansel, published in 2010, was followed by seven additional books: Carin Goldberg (2010), Lillian Bassman (2010) and Paula Scher (2011), Tomoko Miho (2013), Janet Froelich (2013), Lella Vignelli, (2013) and Bloggboken (2013, in Swedish).
In May 2013, Hall of Femmes produced a two-day design conference Design Talks, with prominent speakers from the world of visual arts, design, communication and fashion, held at Moderna Museet in Stockholm. Book signings have been arranged at Danziger Gallery and Art Directors Club in New York and the project have been written up in magazines like The New York Times Magazine, Creative Review and Vanity Fair.
Team & Contributors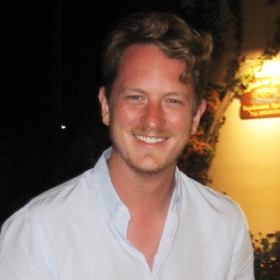 Jason Brownrigg
Jason Brownrigg was born in New York City, and returned there to study at Parsons School of Design after growing up in sunny California. His love for photography began at age ten when he started taking pictures with a plastic camera given to him by his father. When these first pictures turned out as shiny 4×6 abstracts of color and light, he knew that he was on to something great. His work focuses on portraiture, fashion photography and cinematography. For Hall of Femmes, Jason has documented numerous issues of Junior Bazaar for Hall of Femmes: Lillian Bassman.