About
Hall of Femmes aims to highlight the work of women in art direction and design. The project was founded in 2009 by Samira Bouabana and Angela Tillman Sperandio. It includes lectures, exhibitions, interviews, podcasts and the publication of the Hall of Femmes book series, each book portraying a designer and her work through in-depth interviews and previously unpublished images.
The project started as a personal desire to find female role models in graphic design, a field where women's contribution to developing the profession had not been documented or had enough recognition. Angela and Samira travelled several times to New York to meet up with a few of the female giants of the design world. They talked to them about work and career opportunities, about mentorship and what it's like to be a woman in the design world. These conversations have been transformed into a series of books . The first book, about Ruth Ansel, published in 2010, was followed by seven additional books: Carin Goldberg (2010), Lillian Bassman (2010) and Paula Scher (2011), Tomoko Miho (2013), Janet Froelich (2013), Lella Vignelli, (2013) and Bloggboken (2013, in Swedish).
In May 2013, Hall of Femmes produced a two-day design conference Design Talks, with prominent speakers from the world of visual arts, design, communication and fashion, held at Moderna Museet in Stockholm. Book signings have been arranged at Danziger Gallery and Art Directors Club in New York and the project have been written up in magazines like The New York Times Magazine, Creative Review and Vanity Fair.
Team & Contributors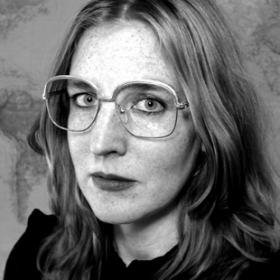 Maina Arvas
Culture journalist and theatre critic who works for Swedish newspapers, magazines and television. Maina Arvas is the editor of Hall of Femmes: Carin Goldberg, Paula Scher and Tomoko Miho. She is interested in culture, women and good stories.
You're the editor of the Hall of Femmes books: Carin Goldberg, Paula Scher and Tomoko Miho. What has been most rewarding with the work?
Besides the thrill to learn about these amazing people, it's been the excitement of the project itself. Hall of Femmes is an investigative project, both sad and a bit angry as well as loving and positive. I think that everyone involved feels an emotional and personal connection.
How has the work on the books differed from each other?
They're completely different designers with their own ways of working and distinct personalities. One tangible difference was sadly that Tomoko Miho passed away shortly before we began working on her book. Besides the fact that I couldn't follow up on the original interview like with Goldberg and Scher, that gave working on the book a special feeling, somewhat nervous and melancholy. It was nice to know that she herself really wanted the book to be published. It was also invaluable to have access to Eric Breitbart, a close friend of Tomoko, who co-edited the book with me.
Do you find the private and the professional parts in the books equally interesting?
I don't really view them as separate parts, for me it's an important point of the project. Hall of Femmes is a series of meetings between professional women in the design world, conversations occur when different generations of women meet. On a deeper level such conversations draw connections between the private and the political.
Have you learned something new about design thru the books?
I hope that I now have a deeper understanding of movements and politics within design history. To name a few examples: Tomoko Mihos personification of modernism, Paula Schers social aspect in her design and Carin Goldbergs ideas about aesthetics and inspiration.