About
Hall of Femmes aims to highlight the work of women in art direction and design. The project was founded in 2009 by Samira Bouabana and Angela Tillman Sperandio. It includes lectures, exhibitions, interviews, podcasts and the publication of the Hall of Femmes book series, each book portraying a designer and her work through in-depth interviews and previously unpublished images.
The project started as a personal desire to find female role models in graphic design, a field where women's contribution to developing the profession had not been documented or had enough recognition. Angela and Samira travelled several times to New York to meet up with a few of the female giants of the design world. They talked to them about work and career opportunities, about mentorship and what it's like to be a woman in the design world. These conversations have been transformed into a series of books . The first book, about Ruth Ansel, published in 2010, was followed by seven additional books: Carin Goldberg (2010), Lillian Bassman (2010) and Paula Scher (2011), Tomoko Miho (2013), Janet Froelich (2013), Lella Vignelli, (2013) and Bloggboken (2013, in Swedish).
In May 2013, Hall of Femmes produced a two-day design conference Design Talks, with prominent speakers from the world of visual arts, design, communication and fashion, held at Moderna Museet in Stockholm. Book signings have been arranged at Danziger Gallery and Art Directors Club in New York and the project have been written up in magazines like The New York Times Magazine, Creative Review and Vanity Fair.
Team & Contributors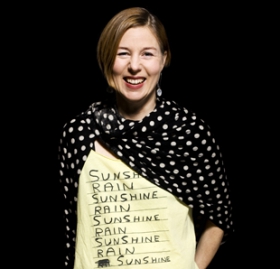 Nina Beckmann
Hall of Femmes previous project manager, Nina Beckmann now holds the position of Director at Grafikens Hus in Mariefred, Sweden foremost art center for contemporary graphic art. Nina has worked as a professor of illustration at Konstfack University Collage of Arts, Crafts and Design in Stockholm and project manager for Kolla! where she was part of developing the arena for graphic design and illustration in Sweden. She has had the honor of receiving the 2011 GYF award in graphic design for her contribution to the field.
How do you remain effective while organizing so many different projects at the same time?
When I work on a project that inspires me I find I get so engaged it's almost electrifying. I think I have a natural ability for organization, to quickly understand and develop the project in question. I also like the financial aspect of it, the challenge to make the most of the means you have.
Do your projects ever inspire each other and how?
Definitely, as I usually work on content driven projects within visual communication there are several areas influencing each other. I want to learn new things from the projects I work on, something that helps to develop all the work I do. Ones network expands and that in turn gives you more ideas. To give an example, besides working on Hall of Femmes I work with Kolla! and this year our theme was "the poster". I heard of an interesting exhibition and publication, Graphic Design: Now in Production, in which Andrew Blauvelt, designer and curator at the Walker Arts Center, writes about posters. Parallel to this I am part of a team who is arranging a seminar at Konstfack University Collage. For the seminar we now have invited Andrew to speak.
How did you become aware of feminism?
I have a hard time accepting injustice and stereotypes in general. When I discovered that women and men are expected to behave a certain way I was very uncomfortable with those roles. I became aware of feminism in high school, but I don't think I thought about it much myself. It became more obvious when I worked for a record label in the 1990's and realized how few women had managing positions. That women today still make less money for the same job as a man is a mystery to me.
 Which is your favorite Hall of Femmes book?
Paula Scher's, I think she expresses herself phenomenally. She's disarming, sharp and intelligent but without being pretentious and keeps a very personal tone. It's a book that anyone can enjoy, no matter what profession they're in, because she has interesting things to say about humanity.