Ann-Mari Wessman, one of the founders of ad agency SWE and one of the foremost AD names in Sweden, is a little secretive. Although she's one of the women who've worked in the industry longest, the interviews she's done are easily counted. She says she's not that interested in visibility; she's more interested in working than talking about working. So it's with particular enthusiasm that Hall of Femmes meet her in the gloriously '60s, and today sun-drenched office of David Helldén's Hötorgsskrapa tower – that, by the way, Ann-Mari Wessman as an old interior designer fixed herself.
How did you start your career?

For me, ending up in advertising was in many ways an accident. I'd actually moved to Stockholm to study at the Royal Institute of Technology, and needed a job for the summer before school started. I happened to see an advert looking for a student draughtsman for an advertising agency – and that was the only reason I ended up in advertising; I've always drawn. That summer was so much fun that I thought "Ok, I'll give it a year". To make sure it would be useful for me later in my engineering career, I applied for a job at Ehrenstråle agency – because they had customers like Volvo Trucks, SKF, and Atlas Copco. But working as an assistant there changed everything. After a few years I applied to art school, to Konstfack, and studied interior and furniture design there. So I've never had this big plan with a capital P for my career. For me, ending up in this world was really just an accident.
What happened to Wessman, interior designer?
When I went to Konstfack the atmosphere was very apathetic; no one really cared if you were there or not. The contrast, having just come from working intensively at the agency, was enormous. I knew that I was better suited to a faster tempo. After two years I went back to advertising.

I still have an interest in design. For example, I designed the SWE office and the furniture here and even completely designed our last office. I suppose I'd always been interested in form, even if I didn't understand at first that that was who I was.
What would you say formed you during your first years in the profession?
Those were really different times – at Ehrenstråle they just asked me if I wanted to start working as art director, something that wouldn't happen today. They were incredibly trusting and tolerant. That was where I grew up, work wise . With the perspective I have now, I can't quite believe some of the things they let me do on my own, ha ha! There weren't many women in the industry then but I have to say, I never really thought it could be to my disadvantage.
Has that always been your experience – that male dominance in the industry hasn't been a problem for you?
Well, it's hard to answer without belittling the issue. I'm sure it's different for lots of others, and the issue of gender equality in the workfield, especially advertising, is important. But being a woman never got in my way or in the way of what I want to do. I've actually avoided this question before, maybe wanting to be judged on my merits rather than as an advocate for women. It has sometimes seemed like because I myself didn't believe that my gender had anything to do with my capabilities, nobody else thought so either. Because I thought my sex wasn't interesting, it was as if everyone else thought so too.


So is gender in the ad business mostly a question of your own attitude?

No, of course not, not for everyone. Here at SWE we've tried hard to be really active on this issue from the start, and half of us were women to begin with. We've definitely made mistakes too and, sure, we've had several strong males in management. But I think that at least we've always had an eye on this issue in a way that was missing in the industry before.

When it comes to producing something, I like to work instead of talking about working. I think about gender equality in the same way: what's important is what you do when you get the chance – not just how you talk about doing it.
Anna Romson, talked about you in her Hall of Femmes interview as her greatest female role-model. Would you rather just be called a role-model, without the prefix?
Ha ha! No, not at all. I was surprised and very happy that she said that. Anna Romson is a cool, strong person hat I have the utmost respect for as a professional. It's not as if she needs to look up to me, she's 1000 times cooler than me! I'm not actually tired of being called a female AD because I've never seen myself that way.
What led to you setting up SWE?
First I worked for several years at various agencies: Blanking, Brimfors, Hall & Cederquist. After meeting the other five founders, we started SWE in 1997. I've been in the same job since 1997 which is hard to grasp sometimes. But both the agency and my line of work have changed and evolved continuously, I've had children and things have happened in my private life, so nothing has stood still. As long as it's still been fun to go to work in the morning, I've stayed.
How do you feel about your leadership role?
I actually don't think I've taken on that role much, a completely conscious decision. In fact, we were 6 completely different people with diverse professional and personality strengths that started SWE. We took on different roles. The people who work here probably see me more as a boss when they start, because my name's on the door, than they do after a few months.
But as a senior art director you lead other creatives?

Yes, and it's amazing sometimes seeing people develop. Johan Skoog, for example, who came here as a copywriter straight from finishing at Berghs. I worked with him from day one when he was new and as green as can be – and now he is one of our absolute best. I'm not at all saying that I could take credit for any of that, but it's a lot of fun to follow people as the develop into who they are, professionally.
What characterizes a good art director in your opinion?
Obviously you need a lot of humor and imagination, ideas and a design sense. Some form of stubbornness also helps you keep moving. But the longer I've worked as an art director, the more it has become evident to me that you have to be good at something else too, a form of empathy. The ability to put yourself in other people's shoes, get a feeling for people, make other people feel secure and comfortable in a situation, whether they're customers, models, or photographers, is often crucial.

 You want to work with creative, independent people but you also want them to understand and do roughly what you already had in mind. You have to be able to give up enough control to benefit from what they are actually good at while ensuring that you're going in the right direction. Basically, people skills are so much more important than one would think in this job. I don't think everyone is aware of that before they start.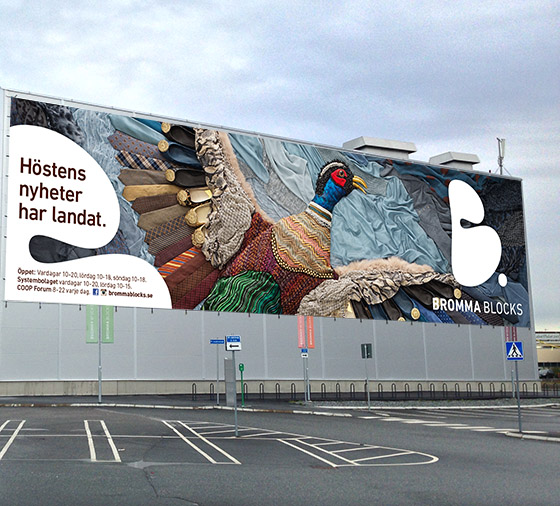 The SWE website states that you promise the clients a more straight-forward, no-nonsense communication about their communication. Are you a more honest advertising firm?
Maybe not honest, but we truly prefer working this way. You cannot make good advertising based on something nobody involved believes in. I think customers – not our customers, but consumers – can sense when something is real. People are much more sensitive than you'd think, you can expect them to see through most things, consciously or unconsciously. So we strive for something genuine. It's easier. And it makes life better!
What motivates you to work?
I've realized that I'm quite driven by enjoyment. After my maternity leave a few years ago, I was unsure if I'd ever enjoy working again. But the moment I stepped into the office, which was on Stureplan at the time, I was just filled with the feeling that this was a fun place to be. I like the people around me and I like what I do. I have no job anxiety on the last night of my vacation. To feel like this … it's total luxury.

 But I mean, this job can be really difficult too. When the creativity dries up then it's unbearable and when you're stuck, you feel like you'll never have any ideas again and that everything you've achieved so far has just been down to luck. The fact that it's so much fun sometimes helps you carry on through the hard parts. Nothing energizes you like having a breakthrough and new ideas.
What's the most enjoyable thing you've done?
On a larger scale, starting up SWE. But there have been lots of fantastic moments. One was when we were in South Africa recording a Pantamera recycling campaign movie. Johan Skoog (copy), and I worked very well together. We had an amazing director, Jens Sjögren, the film crew was great, everything gelled and it was really good energy. We had a lot of fun recording in Cuba but when we came to film in South Africa there were loads of kids who came and danced on location all day. It was a completely magical atmosphere. It's one of my best workdays ever. When everyone pulls in the same direction, the result is so much stronger. returpack_pantapanta40s_16_9
_vba1 returpack_artister_big
Has the profession changed since you started? What will an art director know more about in the future?
That's a big topic of conversation for us, just as for everyone else. Everyone wants to make the pioneering advertising, push the limits of convention, see the future and innovate. With SWElab we've tried to develop new areas to work in and new ways of looking at concepts, for example with something called app-academy in the last two years.
At the risk of sounding stone age, I often think we don't need to be so fixated on technology when considering the future. It's certainly an industry in transition, with new forms of communication needed to reach out, social media and the internet. But at the same time, perhaps we shouldn't overestimate the importance of the medium. When you've worked as long as I have, you've seen over time what makes a difference. When I started in advertising we didn't even have TV commercials, and when they arrived everyone thought that we needed to find a whole new way of talking. Same thing now when you try to adapt to social media – the starting point isn't necessarily something new. People have the same heart whatever they are looking at. When you meet someone you know on the street, you're the same person who looks at something on the internet. Humor, warmth, heart, honesty – that's still what matters, regardless of the channel. But it's easy to get thrown in the old-trashcan for saying so, ha ha!