Emma Eriksson (formerly Ludvigsson) is Art Director and Creative Director at Le Bureau which she co-founded with Gustaf Sehlstedt and Claes Kjellström. Since 2006, they've run the advertising agency behind attention grabbing, fun campaigns for safer sex, improved alcohol habits, more qualified teachers, and reduced maternal mortality, with clients like Smittskyddsinstitutet, Alkoholkommittén, Hyresgästföreningen, and Skolverket. We caught her during an intense period of production at Le Bureau, to hear her thoughts on inspiration, being a leader, and advertising for the greater good.
Tell us about the beginning of your journey – how did you became Art Director? What influenced you earlier in your career?
It all started with me being interested in music. Album art led me to discover graphic design. My interest in music came first, but then everything that surrounded the music became interesting. The fact that music could be packaged in different ways interested me: in videos, fashion, graphics. That there was a thing which was graphic design, I discovered purely through album art. I found magazines like i-D and The Face early on which made a big impression – there was no internet. The fashion world inspired me too, but mostly as part of the whole. 

After my teens, I applied to art school, did a bit of everything at a small agency, and later went on to Beckmans College of Design. I really loved Beckmans; it perfectly combined being freely creative yet anchored in reality. I realized I wanted to work with design and worked a summer vacation at Pentagram in London. Their processes were slow and everyone was very serious. Next, I applied to advertising agency TBWA STHLM where ideas got realized quickly. They had fun. At the same time they ran really good, different campaigns. When I graduated from Beckmans, I got my dream job there.
Festmetoden (The Party Method) for Alkoholkommittén, AD: Emma Eriksson. We worked with Alkoholkommittén for six years. This campaign is all about partying smarter, and was made digitally as a film, print, and event. Sweden Graphics did all the motion graphics.


Tell us about how Le Bureau started. What made you get involved and start your own agency?
Gustaf Sehlstedt and Claes Kjellström are two people I admire, we worked well together and have the same views on communication. Pretty quickly, we grew to 10–12 people and got big projects like Trygg-Hansa, Filippa K, and Alkoholkommittén. We had an extremely good start and probably didn't really understand how smoothly it all went. For me, the most important thing wasn't having my own business but about learning something new. Then, after a while, I realized that I really enjoyed it – as much as the creative side.
On Le Bureau's website, it says that you're an advertising agency based on people and society, and that you want to create content. What does that mean?
By creating content, we mean creating something that people want to take part in without it being forced on them, something the recipient searches for themselves. It also means that we think about diversity, equality, and sustainability. Not just for assignments but also internally. For example, we've spent a long time trying to get half women and half men at Le Bureau, and right now we are. I think it feels good here.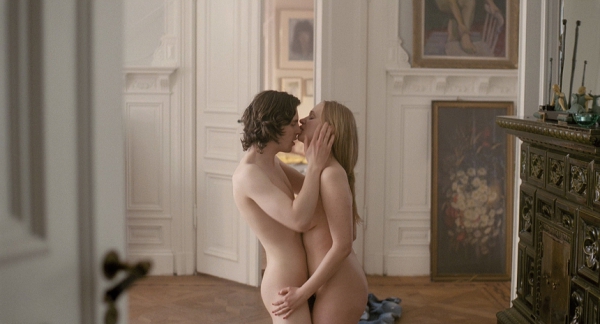 Knullträdet (Fuck Tree) for Smi, 2010, AD: Emma Eriksson. The campaign included a Facebook test where you could see how many people you'd actually had sex with. In the film, this was dramatized by young actors and other celebrities. It got a lot of attention when it was banned from Youtube because it contained too much nudity. Directed by Mikael Marcimain.
Do you think that advertising has a constructive function in society? What does that look like?
Not on its own, but it can be one of many actors. Lots of people say that they're not influenced by advertising, but it's already with us as children, it contributes to both consolidating norms but also changing them. I've always liked advertising that doesn't look like advertising and is real. I am proudest when a campaign could just as easily have been a popular movement or a cultural manifestation. Of course, it would have been exciting to do things totally freely, be your own customer; maybe it will happen in the future.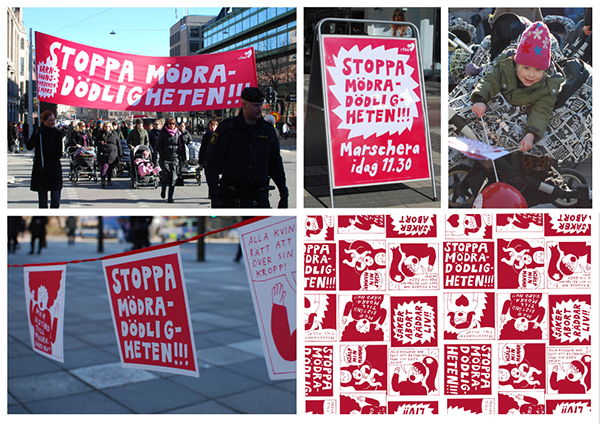 Barnvagnsmarschen (March of the Prams), 2009–2014. 
RFSU wanted to do a campaign against maternal mortality, and since I'd just had my first child I became very emotionally involved. So we suggested that they do a march with strollers for people on parental leave instead of traditional advertising. The design of the stroller covers is key and this is Liv Strömqvist's from 2012.
What motivates you?
That something I do will affect people who despise advertising. That someone will search for it without it being forced on them. A constant motivation is also to work with talented people, both at the agency and choosing creative people from the outside to work on different projects.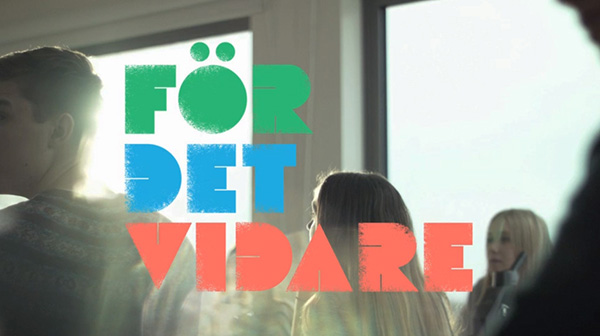 För det vidare, Campaign for Skolverket, 2014. 
We show role models to raise the status of teachers, and to attract more young people to apply for teacher training. By arousing emotions, we want to get people to understand what a fun and important job teaching is. We worked with a mixture of film, editorial content, and social media. 
What's it like to run an agency? Who have your role models been?
We have a creative method to assure quality in the group. None of us who run Le Bureau get to decide if something's a good idea; we do it together instead. It's good to be a little tougher in this kind of forum, so that you push yourself harder.
One of the things I like most about my role is being able to recruit talented, creative people that contribute different perspectives and knowledge. And it's never completed, you have to develop constantly. 

During my first 6 years as Art Director, I got to work with Anna Qvennerstedt and Patrik Sehlstedt who were running TBWA at the time. I've since realized how unique their way of leading and giving young people a chance early was. It was amazing to have such a good, young, female boss. On the other hand, you saw almost no women above a certain age working in the advertising industry. I thought that was a shame, and that's probably why I almost always thought that I'd only work in the industry until I was maybe 40 – and I am now. So it's something I've thought about a lot in the last few years.
Why is that, that women have disappeared from the industry at a certain age?
It's having children. Working part-time at an advertising agency in the middle of your career is probably something that no one has been able to get to work. And the solution is very much there, in people's private lives, and how family responsibilities are shared. Young people seem to have understood that everything is more fun when it's divided equally, and it's only then that it's possible to do both. For me, it was really important that I start a family with someone who wanted to take responsibility as much as I did. I don't think I could have fallen in love with someone with traditional values.
What do you think will happen in the advertising world with gender equality in the future?
It's got a scarily long way to go, and not just in advertising. The next generation is more aware. One person I worked with during my first year often said that, "it absolutely can't be girly" – but half of humanity is girls, would they be worse customers? You don't hear this kind of thing as much anymore – although you often get gender-neutral communication aimed at men instead, which is irritating. 

I think both men and women benefit from having colleagues of both sexes. There is a positive atmosphere and the exchange is greater and more inspiring. If you look at design schools, it seems like we're going to have more female than male designers in the future. We've focused for a long time on hiring senior female staff.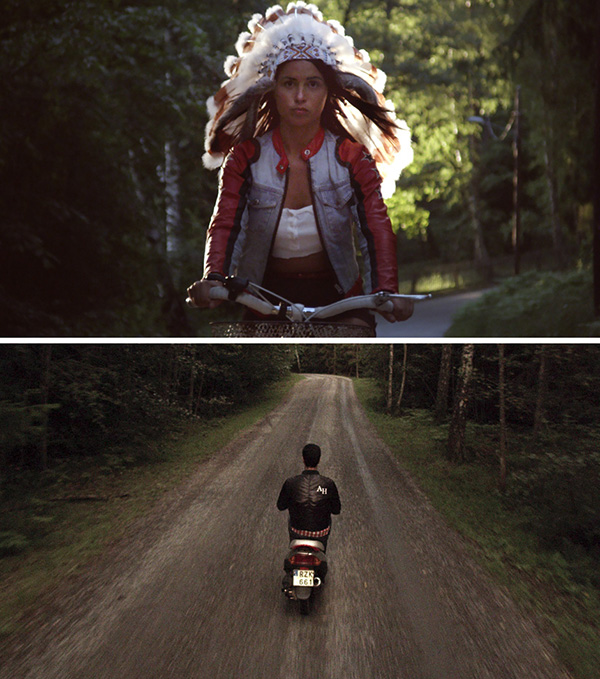 Dansa i neon (Dance in Neon), campaign for Smittskyddsinstitutet 2012–2013 
We wanted to show what young people themselves thought about condoms, and made a series of short documentary films with Tarik Saleh, among other things. It couldn't be prim and didactic but had to be real instead. 
You draw attention to photographers, artists and designers you like on your blog Apple of the Day. Is it important for you to spread inspiration?
Yes, for me it is. The blog is pure relaxation, and gets varying amounts of attention depending on how much time I have. It has to be completely undemanding and driven by enthusiasm, and can never feel like another chore.
Do the same things inspire you now as when you started?
Ha ha, yes, nothing's changed! I'll always love paper and I still buy magazines, despite my love of the internet. But the currents in society and the people I've spent time with outside the industry influence me very much. I don't get as inspired watching advertising anymore, although I do like to analyze advertising. It is useful to keep an eye on your guild, but I don't think it's good to find your inspiration by trawling through advertising blogs when you need to come up with ideas.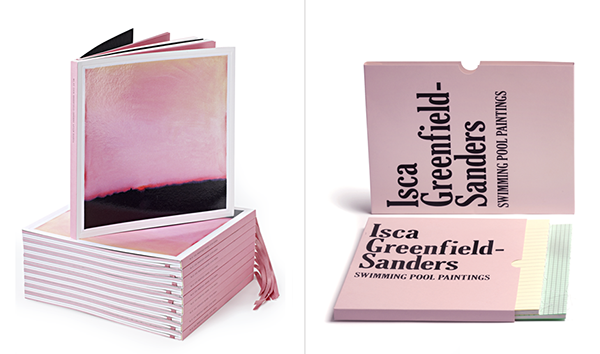 Wetterling Gallery 2012 and 2006. 
All the other jobs here have been done with others, but sometimes I design completely alone. Here are two examples of it for Wetterling Gallery. I've even designed their identity, which is pink.

What advice can you give someone who wants to become a little more like you?
Step forward without being ashamed. Come with many ideas, so there's always something which might be good. Find energy in seeing the visual side as an important part of the idea. Choose a photographer, illustrator or director with great care and let them do their thing – rely on their expertise. A good piece of advice I got from someone wise, was to try to make your latest job the best you've ever done.
What dreams have you got now? What are your hopes for the future?
I like the idea of becoming an extremely old Art Director, and I'm also curious about working more editorially with art and culture, or to work purely visually with design and image. Le Bureau has just got started, so I want to continue on that journey.