Tuesday 7 January 2014


The Hall of Femmes'
Annual Report 2013
As the new year begins, we'd like to wrap up what we did last year.
2013 was the year Hall of Femmes expanded from a two-person mission to a much bigger one, thanks to our smart, savvy and professional collaborators.
2013 was the year we published four new books; three on Tomoko Miho, Lella Vignelli and Janet Froelich, which we celebrated with parties at Moderna Bar, Yaki Da and Lydmar Hotel. We also compiled our 700 – so far – blog posts, written between 2009 and 2013, into a book.
2013 was the year we arranged our first (but not last!) conference, aka design festival, aka Best Week of 2013: Hall of Femmes Talks, at Moderna Museet. For two days, Swedish creatives experienced lectures from and discussions with leading international creatives. Thank you all for making this conference so memorable, and thank you for the kind words, e-mails and letters we've received – it means the world to us.
2013 was the year we started to do podcasts, thanks to Stockholm based production company Filt.
2013 was the year we did several new interviews with leading Swedish creatives, who generously shared their thoughts on both gender and design. Don't miss this brand new interview with leading lady Lotta Kühlhorn.
2013 was the year we sometimes changed position, from doing interviews, to being interviewed.
2013, in the Fall, we presented a screening: »Sarnos – A Life in Dirty Pictures«, a documentary by Wiktor Ericsson, at Bio Rio. After the film, there was a conversation between Peggy Sarno and Hall of Femmes' editor Ika Johannesson.
2013, in October, we were honored with the prestigious Bengt Hanser Award for, in the words of the jury: »having contributed to an improved industry for both men and women – and for giving us a more inclusive history of design« (We're so proud!).
And not forgetting – in 2013 we got this web page.
We wish you a wonderful new year, and hope to see you at one of the events we're planning for 2014. Our first event for 2014 is »True freedom can only be collective«, welcome!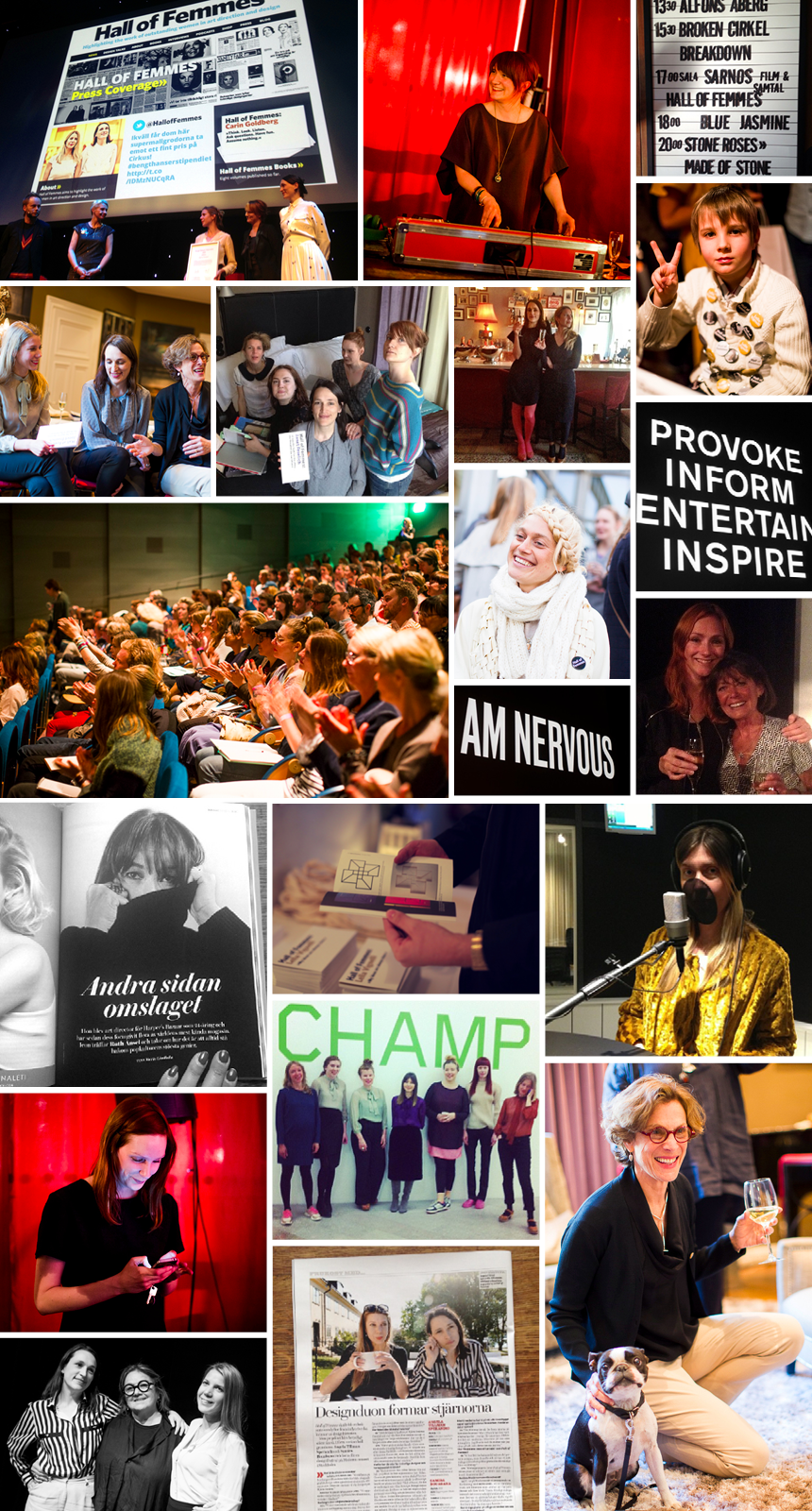 Posted by: admin 07:20
Tags: 2013, Bengt Hanser, Filt, Hall of Femmes Talks, Janet Froelich, Lella Vignelli, Lotta Kühlhorn, Peggy Sarno, Podcasts, The Sarnos, Tomoko Miho
Categories: Books, Hall of Femmes intervjuar, Ladies, Seminars
Wednesday 11 December 2013


Årets julklappar
Nu ska ni få den enda lista ni behöver inför julen. Det är lite oklart om det är en inköpslista eller önskelista, både och förmodligen – det vet ju alla att man alltid hittar bäst presenter till sig själv. Det är lika bra vi säger det på en gång, den är väldigt partisk, ingenting du lika gärna kan slöjda själv, allt är kvalitet men inget är gratis!

1. Självklart vill vi att alla du känner ska läsa alla våra böcker och att väggen som är det första du ser när du slår upp ögonen på morgonen, hela tunnelbanevagnen på väg till jobbet,  utrymmet bredvid kaffemaskinen på kontoret  och varenda lägenhet du tjuvkikar in i på kvällarna alla ska vara tapetserade med Hall of Femmes affischer. I år gav vi ut tre nya böcker och lika många affischer, om Janet Froelich, Lella Vignelli och Tomoko Miho. Dessutom gjorde vi Bloggboken, där du som vill julevila skrollfingrarna kan läsa Hall of Femmes blogg i bokformat. Dessutom har Ruth Ansel formgivit en fin bok förra året och dom här fina anteckningsböckerna har Paula Scher gjort. För den som redan har allt Hall of Femmes-relaterat (vi älskar dig), och hellre vill blicka in i framtiden, föreslår vi att köpa biljetter till det här eventet vi ordnar på Arkitektur och Designcentrum, True Freedom can only be collective – a seminar celebrating Lina Bo Bardi.
2. Årets största konsthändelse i Stockholm – vid sidan av Barbara Krugers föreläsning i maj – var förmodligen Cindy Shermans utställning på Moderna museet. Årets konstkatalog är helt följdriktigt Stefania Malmstens katalog för utställningen, där litterära texter blandas med konstbilder. En annan av våra favoritkatalogformgivare Anders Wester har gjort den här om Charles Long.
3. Kören The Sweptaways 10 år som Stockholms mest lysande popkör har blivit till en kombinerad foto- och notbok (kan även köpas på Bondegatan 11 under kontorstid) med arr och nyskrivna texter av kören själv. När alla julaftonsvännerna gått hem, sätter du på den nya skivan och sjunger med, svajande framför granen.
4. För dig som känner, eller själv är, en fåfäng bebis – här är dom mjuka paketen från en av våra svenska favoritformgivare, Ida Wessel och hennes klädmärke för barn, Tuut kids.
5. För dig som känner någon som är – eller själv är – ålderslös. För utan att ha läst den ännu, föreställer vi oss att Bea Uusmas bok Expeditionen kan ges bort till vem som helst, i vilken ålder som helst. Formgivning av Lotta Kühlhorn är såklart den andra anledningen att köpa boken.
6. The Gentlewoman kan du köpa en prenumeration på här. Prenumerationer är för övrigt världens bästa present, spridd över året och alltid lika glad överraskning när ett nytt nummer kommer. Vi rekommenderar även Mattias Åkerbergs ambitiösa nyhetsbrev Please Copy Me. Och för fanzineälskaren: maila me@johanbjorkegren.se och beställ 44 sidor talang.
9. Till den som är mer teoretiskt lagd, köp Hello World eller 100 Ideas that Changed Graphic Design. Och för den som vill ha en bok som räcker i flera år och är så tung att man inte behöver ge bort ett gymkort, köp Svensk illustration – en visuell historia. Och såklart: In som ett lamm, ut som en tigrinna.
10. När du köpt alla dom här sakerna, föreslår vi att du slår in allt i rättesnöret.
Posted by: admin 16:46
Tags: Bea Uusma, Cindy Sherman, Ida Wessel, Lotta Kühlhorn, Please Copy Me, Rättviseförmedlingen, Sara Teleman, Steven Heller, The Sweptaways, Vanja Hermele
Categories: Alice Rawsthorn, Anders Wester, Böcker, Humor, Lella Vignelli, Lillian Bassman, Magazines, Massimo Vignelli, Paula Scher, Pengar, Penny Martin, Ruth Ansel, Stefania Malmsten, Tomoko Miho